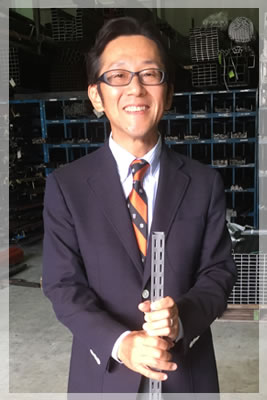 HIGUCHIKOUKAN, a community-based steel pipe wholesaler in the Higashi-Osaka area, mainly sells pillars (e.g., slit pipes) for display fixtures, table legs, round pipes and square pipes used for chair frames and stair handrails, and atypical pipes.
Most customers are metal product manufacturing companies in the local area.
HIGUCHIKOUKAN mainly deals in pipes. These days, an increase in the sales of steel products, including plates, flat bars, angles, as well as stainless steel products and nonferrous metal products are conspicuous.
Therefore, we would like to be a steel wholesaler dealing in iron and steel materials in general in the Higashi-Osaka area without being trapped in the frame of steel pipe wholesaling.
HIGUCHIKOUKAN is characterized by its sales style, in which HIGUCHIKOUKAN attaches importance to the sales of products with secondary processing, such as cutting, bending, drilling, and chamfering, or slit processing, instead of circulating purchased materials from right to left.
Most of the secondary stages are processed in-house, and a speedy response is possible.
For the next 10 years, a wave of generational change will rush to small-, medium-sized, and micro enterprises, and companies with no successors will close down soon or later.
If industry peers and metal processing businesses are going to close down, we would like to take them over in order to maintain the smooth distribution of steel in the local area.
In fact, four companies dedicated to processing closed down, and all of them were merged with HIGUCHIKOUKAN. Two of them were businesses dedicated to metal cutting (merged in 2005 and 2006), one of them was a business dedicated to pipe bending (merged in August 2011), and the other one is a business dedicated to slit processing (merged in August 2013).
If there are companies with no successors in the future, we will be pleased to assist them as well.
Hirokuni Higuchi, President and CEO, HIGUCHIKOUKAN Inc.