Cutting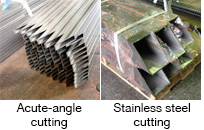 Various types of cutting, such as acute-angle cutting, are available.





Bending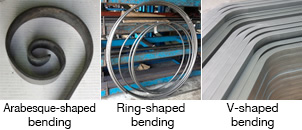 Various types of bending, such as U-shaped bending, angled ring-shaped bending, mouth bending, arabesque-shaped bending, ring-shaped bending, as well as steel plate and material bending.


Slit Pipe Processing

HIGUCHIKOUKAN can perform the slit processing of pipes diagonally cut to the left and right. HIGUCHIKOUKAN can perform the paint coating of slit pipes as well as eccentric slit processing.
 
Other Processing Items

HIGUCHIKOKAN flexibly supports deburring, roll cutting, swage processing, painting, plating, laser processing, steel material cut sales, milling, and drilling.